Travel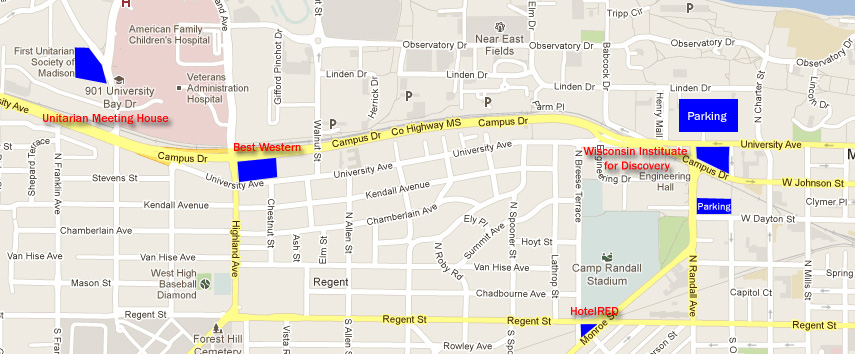 Ceremony
First Unitarian Society of Madison
900 University Bay Drive
Madison, WI 53705
The Unitarian Church has two spaces that host ceremonies – the older Frank Lloyd Wright Meeting House, and the new Auditorium. Our wedding will be held in the new Auditorium which is located to the left of the parking lot. The picture below shows you where to enter.

Parking
The ceremony location is a couple of blocks north of (up a hill from) University Avenue, across the street from the back of the Veterans Hospital and across from the entrance to the American Family Children's Hospital. The church has an adjoining parking lot. In the unlikely instance that it is full, you may park one street to the south of the lot on Marshall Court. We recommend coming a little early so that you can ensure you get a good parking spot.
Cocktail Hour / Reception
Wisconsin Institute for Discovery
330 N. Orchard St.
Madison, WI 53715
The Cocktail Hour and Reception are being held at the Wisconsin Institute for Discovery (WID) on the campus of UW-Madison. WID is located on the corner of University Avenue and Orchard Street, and is between Campus Drive and University Avenue.
Parking
Free parking is available at the UW-Madison Parking Lot 20. This parking lot is available on University Avenue, just prior to the intersection of University with Randall Avenue. After you park at Lot 20, walk across University Avenue. You will be standing on the intersection of University Avenue and Randall Avenue, and the Institute for Discovery will be directly in front of you.
In the unlikely instance that parking at UW-Madison Parking Lot 20 is unavailable, you may also park at Union South, a pay lot. Union South is located across Campus Drive from the Institute for Discovery. You may enter this parking lot via Dayton Street.
Shuttles
Both hotels we have reserved space in provide shuttles for your use on a first-come, first-served basis. Please contact the shuttle at HotelRED at 608-819-8228, and please contact the shuttle at the Best Western Inntowner at 608-233-8778.
Taxis
Madison has several taxi companies that should be able to take you downtown or to your hotel within a ten-minute ride or less. You may contact the following vendors:
Green Cab of Madison: 608-255-1234
Union Cab of Madison: 608-242-2000
Badger Cab: 608-256-5566